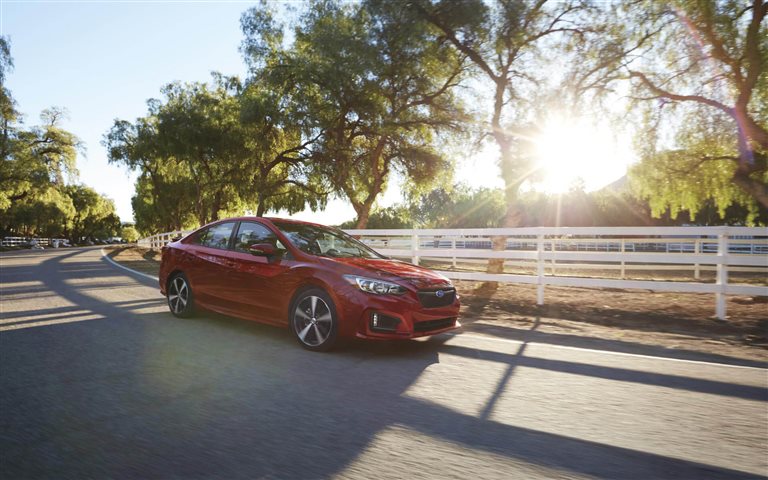 Drive a set of wheels that are designed to be just the right fit for you, your style, and your needs. The 2019 Subaru Impreza in Klamath Falls OR delivers a comfortable ride every time and has for several years. With two options depending on your personal preference (sleek sedan or versatile 5-door), the Subaru Impreza was built for your next adventure.
The fuel-efficient, comfortable, and durable 2019 Subaru Impreza is waiting for you to take it for a ride. Powered by the signature SUBARU BOXER® Engine, the Subaru Impreza delivers a maximum transfer of power and improved performance.
Take a look at one of the longest-lasting Subaru models on the Klamath Falls Subaru showroom and discover why this model may be the best choice for you to take home.
A Subaru Made Out Of "Bests"
Best residual value and winner of the 2019 ALG Residual Value Award

Best-selling all-wheel-drive car in its class, based on IHS Markit U.S. total registrations

Best for being the longest-lasting vehicle in its class
Built to Last
The Subaru Impreza is the longest-lasting vehicle in its class with 97% of Subaru Imprezas sold in the last 10 years still on the road today. Visit new places, enjoy new experiences, and take on new adventures for years and years to come. If you are looking for a durable companion on the road, the 2019 Subaru Impreza is an extraordinary partner for you.
Your Best Match for Size and Comfort
Enjoy every ride you and your passengers take with the refined, spacious interior featured in the 2019 Subaru Impreza in Klamath Falls OR. Soft-touch, high-quality materials make it comfortable and pleasant during every trip whether around town or around the country. With over 2% more passenger volume than the 2018 Honda Civic Sedan, the 2019 Subaru Impreza delivers a higher level of comfort to everyone.
The Best Compact Car in 2019
The ALG's Residual Value Awards (RVA) recognize vehicles that are forecast to retain the highest percentage of their Manufacturer's Suggested Retail Price (MSRP) after a three-year period.
For the Compact Car category, the 2019 Subaru Impreza was awarded the RVA alongside 5 other Subaru models also topping their respective categories.
Two Unique Styles to Fit Your Needs
Designed to enhance everyone's unique driving experience, the 2019 Subaru Impreza in Klamath Falls OR gives you the choice of either a comfortable and stylish sedan or the more sporty 5-door hatchback version. If you are looking for style and convenience, this best-selling model will be the perfect set of wheels that you need.
Experience More of this Best-Selling All
-Wheel Drive
Experience these and more of the 2019 Subaru Impreza features first hand by visiting the Klamath Falls Subaru showroom. Versatility, stability, and balanced design along with a variety of safety and technology features provide you and your passengers with a delightful driving experience to any destination you choose.
View every Subaru we currently have to offer by visiting our new inventory page. If you don't see the perfect vehicle, just let us know and we promise to do our best to get you in the Subaru of your dreams. Take the first step today by choosing your preferred style and take the 2019 Subaru Impreza home and everywhere else.