2020 Subaru Outback vs Forester near Medford OR: What's the Difference?
One of the most common questions from Subaru buyers is whether they should buy a Forester or an Outback. When comparing, the decision comes down to the driver's needs and wants.
Both the Outback and Forester come with the award-winning Eyesight driver assist technology. They each have 8.7 inches of ground clearance to allow off-roading without damaging your Subaru. Outward Visibility allows you to see over the traffic in front of you. Both also offer an optional power tailgate feature. Buyers have the option of adding a moonroof to the Forester or Outback as well. Klamath Falls Subaru is ready to lend a hand in determining which Subaru fits your lifestyle. To mke it easier on you, we've compared the Subaru Outback vs Forester near Medford OR so you don't have to.
2020 Subaru Outback
The Outback is a larger vehicle and costs about $2,000 more. It has a longer wheelbase and presents a smoother ride. You gain almost two inches in width and about eight inches in length over the Forester. Your furry friends will have 35.5 cubic feet of space to ride with the seats up and 73.3 cubic feet with seats down in the cargo area.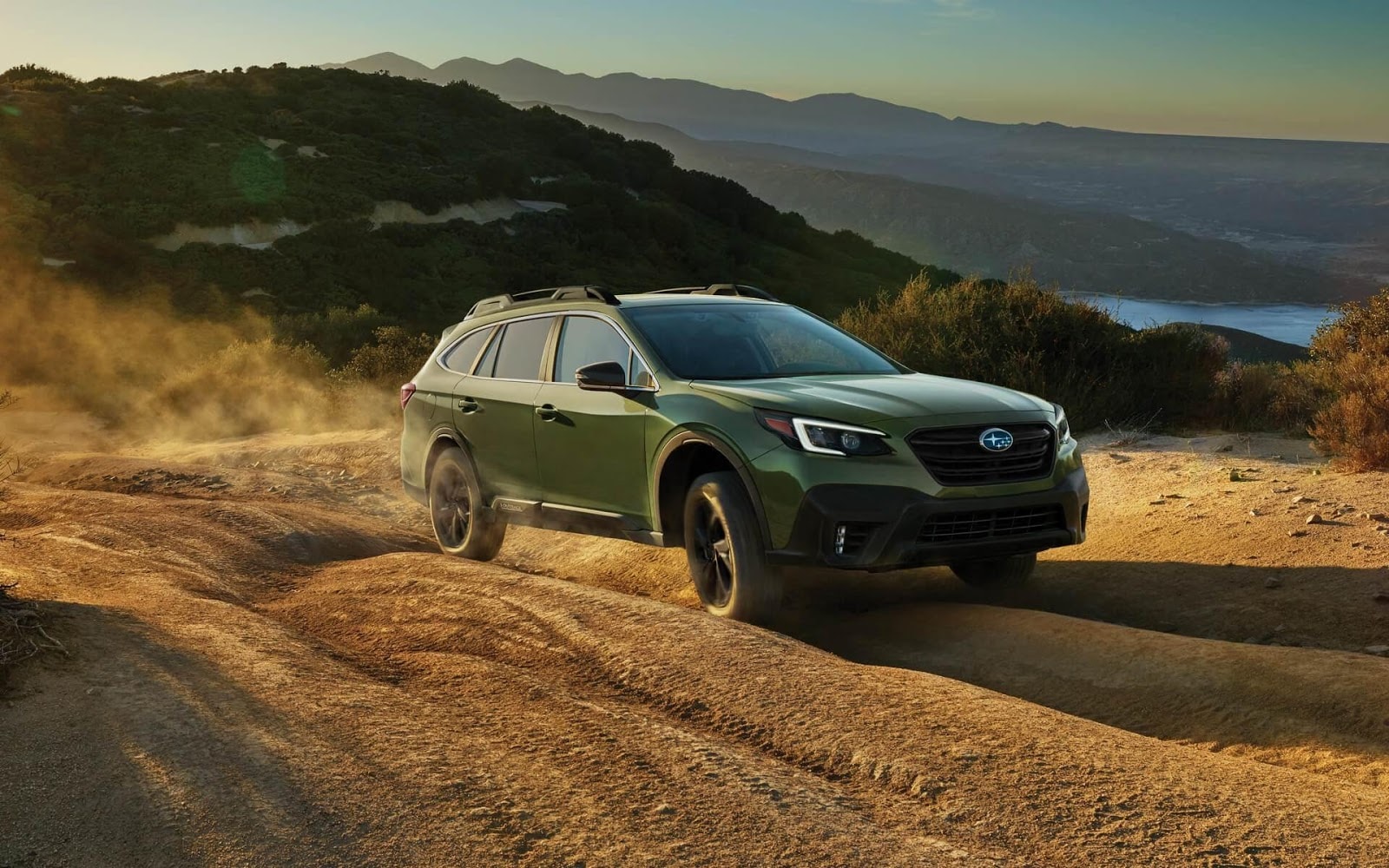 If you are ready for an adventure you will not go wrong with an 18.5 gallons fuel tank (25 MPG city, 32 MPG highway). With a towing capacity between 2,700-3,000 pounds, Outback drivers are able to pull a boat or camper with ease on these adventures. Roof rails (front to back) and integrated crossbars (left to right) are standard except on Touring models for drivers who prefer a tent or kayak over a camper or boat.
To avoid sliding forward into an unsafe position during a collision the Outback has cushion airbags strategically placed under the thigh area of the driver and front passenger seats. These features allow Subaru Outback drivers to experience adventure while maintaining peace of mind about the safety of their most precious cargo.
2020 Subaru Forester
The Subaru Forester is a more compact vehicle than the Outback and offers a slightly better fuel economy. Get ready for a road trip with your Subaru Forester's 15.9 gallons fuel tank and fuel economy (26 MPG city, 33 MPG highway). Your furry friends will have 35.4 cubic feet with the seats up and 76.1 cubic feet with the seats down in the cargo area, so you can take them along for the ride.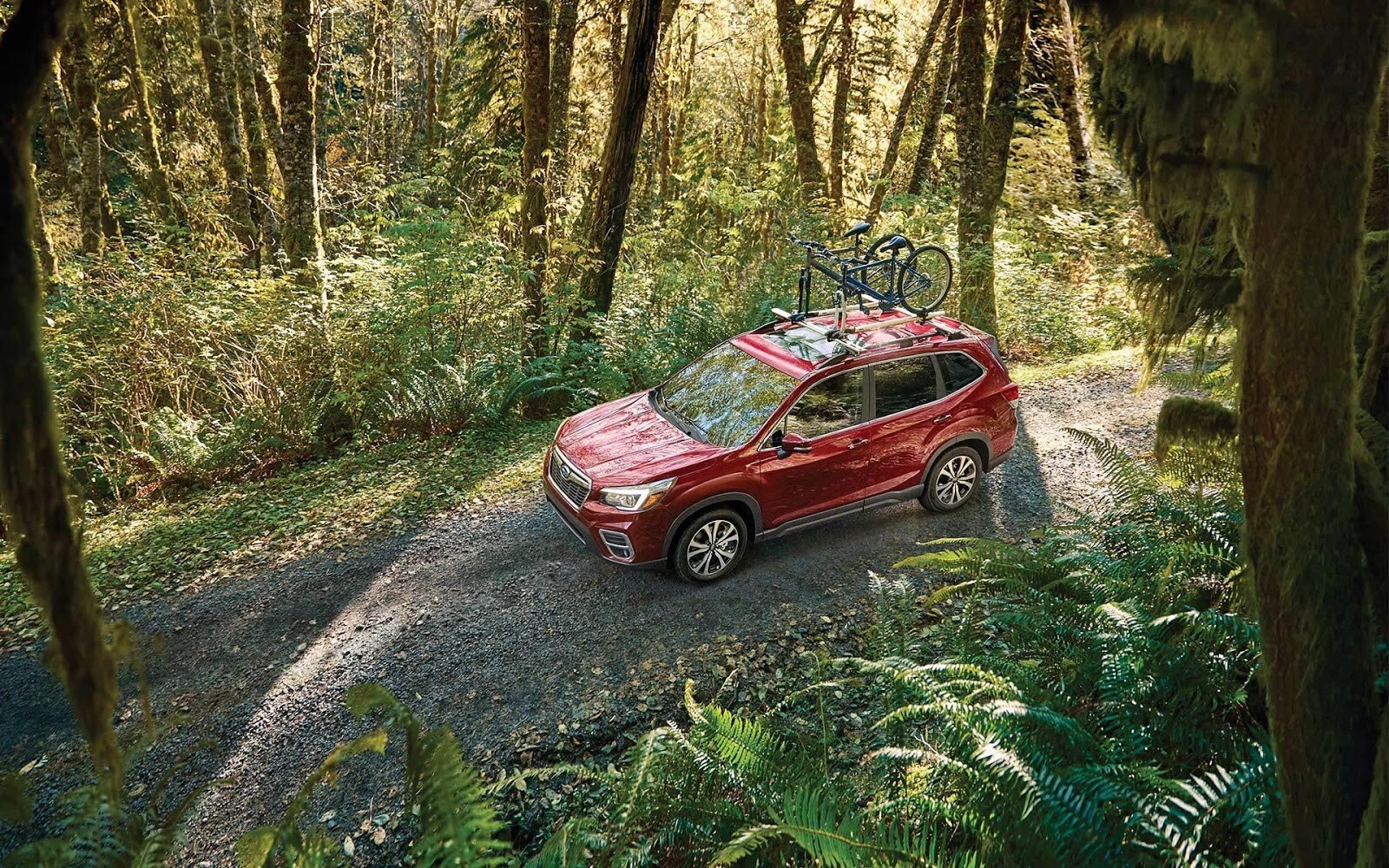 Roof rails (front to back) are standard on all except the base Forester model and crossbars (left to right) are optional on all models. This combined with the maximum towing capacity of 1,500 pounds makes the Forester a better companion for drivers who prefer to pack on top of the car verses behind it.
Regardless of where your road trip takes you, X-Mode paired with symmetrical all-wheel drive can handle any terrain. X-Mode permits the driver to select the current terrain; providing better traction and stability on even the most challenging surfaces. To aid even more with off-roding or interstate passing, Subaru's Lineartronic Continuous Variable Transmission (CVT) gives drivers more get-up-and-go!
The Subaru Forester uses knee airbags to prevent the driver from sliding forward into an unsafe position in the event of a collision and utilizes many of the same safety features like the Subaru Outback.
An extraordinary feature that was introduced on the 2019 Forester is Driver Focus. This feature is now available on the 2020 Outback as well. Driver Focus is an anti-distraction system that works with EyeSight Driver Assist Technology. It uses facial recognition to recognize signs of driver fatigue or driver distraction. The system can identify up to five people, remember their preset seat positions, climate setting, multifunction display, and personally greet each driver. DriverFocus works by detecting when the driver looks away from the road for three seconds or more and using a series of beeps to alert the driver. The Subaru will slow down until it stops if the beeps are ignored. In case of an emergency, if the driver is unresponsive, DriverFocus will contact a live operator through Starlink.
The Subaru Outback and Forester both come with the standard steering wheel, dashboard, the edge of the front seat, and roof airbags for passengers. Both vehicles earned the Top Safety Pick rating from Insurance Institute for Highway Safety.
We're ready to demonstrate Subaru Outback vs Forester near Medford OR, so come experience the difference for yourself!
EPA-estimated fuel economy. Actual mileage may vary.