The 2021 Subaru Love Promise Community Commitment Award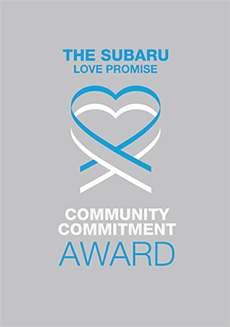 We've been nationally recognized for our dedication to our community and the Subaru Love Promise.
We're honored to receive the 2021 Subaru Love Promise Community Commitment Award. This award nationally recognizes Subaru retailers who are making the world a better place while demonstrating an outstanding commitment to supporting passions and causes in local communities. These efforts are focused in important areas such as the environment, community, health, education, and pets.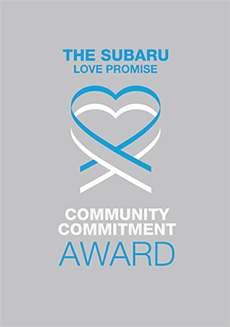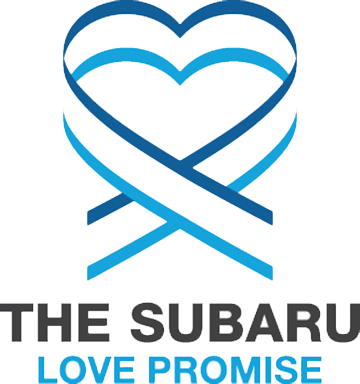 What is the Subaru Love Promise?
Subaru and our retailers believe in making the world a better place and the Subaru Love Promise is our vision of respecting all people. This is our commitment to show love and respect to our customers and to work to make a positive impact in the world.
How is Klamath Falls Subaru dedicated locally to the Love Promise?
Our Love Promise can be seen in various partnerships with local organizations throughout the Klamath Basin. We are grateful for the opportunity, not only to be a part of our community but to serve it as well.
The Klamath Animal Shelter
The Assistance League of the Klamath Basin - Operation School Bell , Oregon Tech Athletics
Friends of the Children of the Klamath Basin, CASA
Sky Lakes Cancer Treatment Center
Love Promise Stories from Klamath Falls Subaru
Subaru and Klamath Falls Subaru believe in making a positive impact on the communities in which we live and work. We uphold that belief through our Love Promise Community Commitment. Every month, we select inspiring stories from customers and partners from around our area who strive to support our collective commitment and feature them here
Clothing children in need in the Klamath Basin - Sherrill S
Klamath Falls Subaru supports the Assistance League of Klamath Basin (ALKB) with Operation School Bell. With the Operation School Bell program, the Assistance League provides clothing for school age children in need in the entire County. Klamath Falls Subaru support of the Assistance League with a great donation and being the Presenting Sponsor for the Jubilee 2019 made a big difference. With the help of Klamath Falls Subaru, the Assistance League was able to cloth 40 more children this year. Last year our goal was 900 children, and we surpassed that, clothing 923 children. Klamath Falls Subaru has been beneficial in helping us reach and exceed our goal last year to help students who need assistance in purchasing clothing and shoes. By doing this, it also helps the families and the community. This year, we have increased the clothing certificates as follows: Increase from $115 to $120 for elementary and from $120 to $125 for middle/high schools. We have been terribly busy already in September and October having sent approximately 400 more clothing certificates than last year….and we are still increasing that number as we get into the year. We are currently working with a social worker to include children attending county schools who are from homeless families. We have been given the number of 300 plus for K-12. So far, we gave 200 certificates for homeless elementary students and are working towards issuing certificates for the middle/high schoolers. Our goal this year is to cloth 1000 children. It is important we be able to help as many children as possible this year as the need has increased considerably. Donations from organizations such as Klamath Falls Subaru will help us not turn away any requests for help. Here are some of the comments from the children." I am thankful for my clothes" – "Thank you for my clothes, I can stay warm in the winter"- "It is so great to have my new clothes and shoes, for everything". It would make your heart sing if you could see the faces of these children and the happiness with their new clothes. We are so grateful to Klamath Falls Subaru and their support for Operation School Bell, they have touched so many children as well as their families and made a huge difference in our community. With their support we can continue to clothe the children in need. Thank you Klamath Falls Subaru! Sherrill Sherwin
---
Faithful Friendship – Anne K - Anne K
Six-year-old *Hayden regularly cared for his younger brother while mom and dad struggled with drug addictions. He had no freedom to be a kid, no reason to trust adults, and little guidance for his own path. Thanks to Klamath Falls Subaru's "Share the Love" proceeds and annual support of our Friend Raisers and Potato Sales, Friends of the Children of the Klamath Basin was able to pair Hayden with a consistent adult supporter (a "Friend"), who will stay with him for 12+ years. Friend Russ shows up for Hayden week after week, month after month -- no matter what -- even when COVID cuts off teachers and school counselors. With Russ, Hayden confides his struggles, and he plays as child should, developing emotional skills and pursuing passions like biking and skateboarding. "He is a bold, amazing little kid -- so smart and so resilient," said Russ. "He's going to get through as long as he has the support he needs." With our proven long-term mentoring model and Klamath Falls Subaru's faithful support, we know that Hayden will get what he needs to develop academically, socially, and emotionally, graduate from high school, and make plans for a productive future. Thank you, Klamath Falls Subaru!
---
Kids Helping Kids With Subaru - Niki S
The "Kids Helping Kids" event held the whole month of May at Klamath Falls Subaru was bigger than ever! Our leading cheerleaders include teachers Kasey Bird of Conger Elementary and Dena Morasin of Shasta Elementary. Their leadership created such enthusiasm among kids, adults and businesses in Klamath Falls.Through the whole month of May, students from Conger and Shasta Elementary Schools collected money and food through various ways. They set up a collection booth at Thunderbird Market. Klamath Falls Subaru brought 2 vehicles to Thunderbird Market and our wonderful community donated food to fill both vehicles. They were stuffed!!Subaru donated cash to help the kids' cause. The awesome staff at Subaru had their own friendly competition raising additional funds to help out the kids. The staff volunteered at the Food Bank sorting all the food raised during this event. The Daily bagel raised some cash too! Between cash and food- we created about 34,000 meals which fed 3,200 hungry kids this summer. Wooooohoooooo! Summer months can be tough for some parents who may be going through a rough time financially and are struggling to feed their kids while they're out of school.Thank you for your support of the Klamath-Lake Counties Food Bank. It really does take us ALL! Niki Sampson, Executive Director
---
Klamath Falls Subaru does Casablanca in Style - Karri M
Thanks to the kindness of Klamath Falls Subaru, and their very generous sponsorship of our Fourth Annual Casablanca Event on March 16, 2019, we raised enough money to advocate for an additional 80 kids in foster care. Court Appointed Special Advocates (CASA) recruits, trains and supports local community volunteers to be the "voice of the child" while a child is in the foster care system. Our advocates are highly trained and become "parties to the case", attend court dates; meet with teachers, foster parents, doctors, caseworkers, the child and anyone in the child's life, in order to advocate for what is in the child's best interest. They work closely with DHS and all parties with the ultimate goal being that of a permanent and safe placement for each child. Our volunteers make a minimum commitment of two years and we have some advocates who have been with children for 7 plus years. Our advocates are often the only consistent person in their child's lives. Without the generosity of Klamath Falls Subaru, we would not have been able to raise the monies from our event that goes toward direct services for our kids. Thank you, Klamath Falls Subaru!
---
A Salute to the Subaru Love Promise - James L
A Klamath Falls Subaru Love Promise come true for a Veteran man and his four little girls. I had the privilege of helping Mr. King and his daughters in 2016 get off the street and gain stable housing with a trusting landlord. I told him then in late 2016 I'd be on the lookout of any program to assist in helping him gain transportation. I had been looking and to no accomplishment. Programs were just not coming around. In November of 2017, I received an email from my Director, from Klamath Falls Subaru that said they had a program to give away a car to a much-needed family. I immediately submitted Mr. King's name and situation. To my great surprise, Mr. King and his girls Amynah, Ava, Aurora, and Alison were chosen for this wonderful gift. When I received the call from Blake Underriner it felt like I had won… I was so happy to hear that Mr. King had received this amazing gift. I later received a call asking for the girls' names and gave them not knowing but the girls each received a stack of gifts all sweetly wrapped with their names. The smiles in their eyes and faces left me speechless. Klamath Falls Subaru did an amazing thing for this family. Mr. King spent at least 2 years walking with his girls everywhere in all sorts of weather just to maintain a simple organized life. In Mr. King's own words "his world just opened up and got a lot bigger". This vehicle has changed his and his girls' life. I will also mention he received a $200 gas card to help get him going. Mr. King and his girls have received a very blessed Christmas!! Thank you Klamath Falls Subaru, and in no short terms or efforts to the associates who donated their time to make the 2005 Subaru perfect, and for choosing Mr. King and his family for this gift. I am a retired Navy Veteran and I Salute each one of you!! THANK YOU!! Each one of you made Mr. King, his girls and all others involved feel appreciated and important, far above and beyond what I have seen from a dealership in years!! Side note, Mr. King is a Disabled American Veteran who served 3 years of Honorable service in the Army. I had the distinct Privilege of recommending Mr. King from my Program at Klamath & Lake Community Action Services under the Supportive Services For Veteran Families (SSVF) Where we have successfully helped many Veterans like Mr. King find stable housing and employment and get them off the streets and out of the elements. Mr. King's story is one of great success based on combined efforts. Thank you, Subaru! My Salute to Subaru Love Promise! James "Chief" Lindsey CPO USN (RET) james.lindsey113@gmail.com
---
Klamath Falls Subaru Loves Learning - Beth S
On September 21st staff from Klamath Falls Subaru met with students and staff at Conger Elementary School to promote reading and science. It was an exciting month at Klamath Falls Subaru as they promoted the initiative of Subaru Loves Learning with new and past customers. Local customers came into the dealership to add encouraging messages in the new science books that were being donated to Conger Elementary. Staff from the dealership arrived at the school with 150 books that encourage science and innovation. The students were able to view all the books and take one home. The teachers were able to have books for the classrooms and the library was even included. Product Specialist Johnnie Najar sat with students and read the book about at home experiments. Students were excited about the idea of creating at home with their families. The teachers and students were over-joyed with the time with the Subaru staff and the new books. Subaru Loves Learning is an important program for the Klamath Falls School district especially elementary schools such as Conger who has a population of students that need and desire more. Klamath Falls Subaru and Subaru of America are a blessing to the Klamath Falls community.
---
Share the Love, Kids Helping Kids - Niki S
Last May was an exciting time for Conger Elementary School students, Klamath Falls Subaru and the Klamath-Lake Counties Food Bank. We all came together to help feed hungry kids through summer months. Nearly 800 kids living in very, very rural areas of Klamath and Lake Counties don't have access to summer lunch programs because of the distance parents have to travel to access those programs. This drive collected kid friendly foods we were able to deliver to food pantries in areas where parents could access food boxes to take home to their families. These kinds of food drives make the difference for those who struggle to put food on their tables.
---
A True FRIEND - Amanda S
Words cannot adequately express our gratitude to Blake Underriner and the incredible staff at Klamath Falls Subaru who have been and continue to be a committed community partner. They go above and beyond to find creative and meaningful ways to support our organization all year long whether that is hosting our Fall potato sale by allowing us to store our 500 crates of potatoes on site, or sponsoring our annual major fundraising event, Friendraiser. In addition to their relentless and year round support, we are also recipients of Share the Love proceeds. Funds generated through this campaign have greatly helped to offset direct children's expenses and allow us to continue to provide our highly effective, relationship based 1:1 model for those youth most in need in our community. Klamath Falls Subaru support has greatly benefited and impacted our organization and reach within the community. Thank you thank you, Klamath Falls Subaru for being a true FRIEND of the Children!
---
Subaru and NWF Love the Earth! - Paolina M
We had a great time planting our garden this June.
---
Fill A Subaru or 2 for the Klamath Animal Shelter - Kasey B
Klamath Falls Subaru partnered with my 3rd Grade Class from Conger Elementary School for our 2016 community service project. My students wanted to Fill a Subaru (or 2) with cat food, dog food and kitty litter for the Klamath Animal Shelter. We held a Battle of the Furry Friends and see if CATS or DOGS could receive the most donations. Klamath Falls Subaru dedicated the use of 2 Subaru Foresters parked in their service bay for the entire month of May. One vehicle was dedicated to CATS and one to DOGS. My students decorated the vehicles with posters and artwork. Klamath Falls Subaru supported our cause by voting for a poster contest winner to be used on social media. They had posters available to customers, shared about our event on local radio and many employees spend their own money to donate in support their favorite furry pet. At the end of May, we had collected 1018 lbs. of donations for the CATS and 1524 lbs. for the DOGS. We were able to present the Klamath Animal Shelter with a total of 2542 lbs. of donations. This was a wonderful learning opportunity for my students that they will remember always. As a little side note, we held similar Fill a Subaru events in 2014 and 2015 with the previous owner. Klamath Falls Subaru came in with full support for our event. All of the new management and employees were excited to be involved. In the end, this was our most successful Fill a Subaru Event to date and exceeded our previous years donations by over 200 lbs.
---
Klamath Falls Subaru & Friends of the Children - Angela G
Klamath Falls Subaru's commitment to the Friends of the Children - Klamath Basin program is unparalleled in our rural Oregon community. The friendly staff is always warm and welcoming to our staff and program youth when we participate in activities on site. Many take a few minutes of their time to visit with us and express their appreciation and kind regards. Klamath Falls Subaru's financial commitments to our 12 year professional mentoring program are a tremendous asset and support to our program as we serve the youth in our community who are facing the greatest challenges. Because of our intensive long term commitment to these youth that truly need us the most, ongoing support is critical to our mission and ability to add new youth and fully serve those we have currently enrolled. Recently Klamath Falls Subaru provided sponsorship and support for our annual signature Friend Raiser event. This beloved community event draws over 500 attendees and allows them an opportunity to learn more about our program and meet some of our amazing youth each year. Subaru's support and involvement in this highly successful event is greatly appreciated and critical to it's success. They are a stellar example of the capacity of the business sector to become involved in an organization such as Friends and develop a meaningful relationship that provides a positive experience for both partners. Thank you!!
---
Friends of the Children Receives $10,000 Donation - Friends of the Children K
On 4 p.m. on May 3, 2016 in the Klamath Falls Subaru showroom, Subaru will donate $10,000 to Friends of the Children, helping them continue the fantastic work that they've been conducting.The Klamath Basin chapter of Friends of the Children has been providing invaluable assistance for at-risk youths for over 16 years. They target children who are born into poverty, finding themselves at greater risk of dropping out of school, developing substance-abuse issues, becoming incarcerated, or becoming parents as teenagers. To prevent those things from happening, a salaried, professional mentor - or "Friend" - is provided from kindergarten through graduation.This is just the type of program that is regularly supported by Subaru's Share the Love Foundation. Their program is only in its eighth year, but it has already donated over $65 million to charitable causes across the United States. The program is also dedicated to offering much-needed donations and support to local charities, and the team over at Klamath Falls Subaru feel that the Friends of the Children program is a deserving choice. Thank you to Klamath Falls Subaru and Subaru of America for the $10,000 donation! It will go a long way towards helping us succeed in our mission!
---
Butterflies Habitats - Conger E
For many years first grade classes at Conger Elementary School have kicked off each school year studying insects, specifically butterflies. Many years ago, classes could hatch Monarch Butterfly chrysalises as part of a Science Unit. Due to the endangered number of Monarchs, the teachers now order Pink Lady Butterfly eggs. The students study the life cycle of the butterfly while watching firsthand as eggs turn to larva that then morph into chrysalises, and ultimately into butterflies. At the end of the unit the students get to set the beautiful butterflies free! In the Spring, student study various life cycles such as the ladybug, the bullfrog and the apple seed reviewing and building on what they learned in the fall about the life cycle of the butterfly. Students create our own caterpillars out of egg cartons for Earth Day and extend their math understanding by creating symmetrical butterflies.The wonderful Monarch Butterfly Habitats donated by Klamath Falls Subaru will be a fabulous extension to the 1st Grade Butterfly Unit. Teachers and students will get to benefit from this donation. Thank you! Joseph Conger Elementary 1st Grade
---
Klamath Falls Subaru - Committed to the Earth - Jeremy K
Did you know the Monarch Butterfly population in the United States has declined by more than 90 percent in recent years? For the month of April, Klamath Falls Subaru is partnering with the National Wildlife Foundation for the Butterfly Heroes Program. Butterfly Heroes seeks to bring awareness to the declining population and connect our community of gardeners and kids, families, and schools alike to help the monarchs and other pollinators. Creating Monarch and pollinator habitat is a wonderful opportunity for observing one of nature's most miraculous occurrences. The unique transformation the Monarch butterfly undergoes during its lifecycle from egg, caterpillar (larva), chrysalis to the delicate yet resilient butterfly is wonderfully intriguing for students and teachers alike. Klamath Falls Subaru will have a butterfly habitat planter on site and be giving away seed kits. Stop in and check it out. We also encourage you to be a butterfly hero and grow your own butterfly habitat at home. It's a great activity for the kids or grandkids! Come join us as we do our part to help save the Monarch butterfly!
---